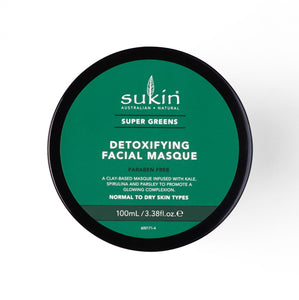 A clay based masque infused with kale, spirulina and parsley to promote a clean, healthy and glowing complexion.
Kale, spirulina, parsley and chlorella offer a super green blend of detoxifying antioxidants and vitamins to promote healthy, youthful skin. Avocado and Baobab lock in moisture while goji berry encourages a dewy complexion. A burst of cranberry provides an invigorating scent to refresh the senses.
Size: 100 ML
Main ingredients
Super greens blend including extracts of Kale, Spirulina, Chlorella and Parsley, Kaolin, Bentonite, Baobab. Avocado Oil, Rose Hip Oil.