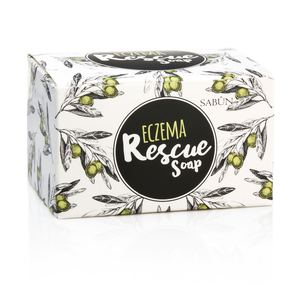 Sabun eczema rescue soap is a natural castile soap made from Olive oil and Bay Laurel.
It contains no perfumes or preservatives and is very gentle on the skin and leaves the skin feeling moisturised. Over time the look and feel of the skin will improve.
Olive oil is naturally moisturisng on the skin and its humectant properties help the skin to retain its moisture.
Bay Laurel oil has antibacterial benefits for the skin.
The soap is recommended for people who suffer from eczema and psoriasis and other dry skin conditions. It is also gentle enough to use on babies.
Ingredients: Saponified Olive oil (sodium olivate), Bay Laurel oil, water, salt
Size: Approx 200gms (twice the size of a normal bar of soap)