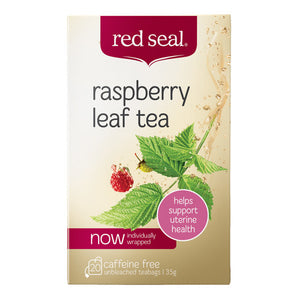 Red Seal was founded in 1923 by herbalist and naturopath William T Anderton. His objective was to help his clients achieve "a naturally healthy mind and body" with the use of herbal remedies. Today Red Seal aim to "make the best quality products available at the best price possible, to make good health affordable and accessible. We see Red Seal as being like a helping hand, the support you need to live your best life."
Size: 25 Bags
Red Seal Raspberry Leaf is a special herbal tonic for women. It helps ease the discomfort of menstruation, and is useful to women during the middle to latter stages of pregnancy as it helps tone the uterus in readiness for labour.
This tea may also be useful as a digestive tonic.
Directions:
Pour water at the boil over the tea bag.
Allow to draw for 3 – 5 minutes.
Add honey or lemon to taste.
Serve hot.
Store in an airtight container.
Serving suggestion: This tea tastes nice mixed with peppermint or a fruit flavoured tea.