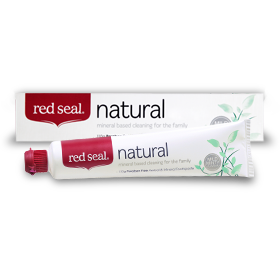 Red Seal Natural SLS Free Toothpaste
Mild, minty toothpaste with liquorice sweetness for the whole family.
A natural and refreshing way to clean your teeth, Natural Herbal & Mineral Toothpaste combines 12 herbs and minerals to provide an effective and unique toothpaste.
Especially popular with children because of its mild, fresh taste.
No added fluoride. There is conflicting evidence on the benefits of fluoride. Excess fluoride may cause chalky white patches on the teeth giving a mottled appearance.  Red Seal provides you with a range of non-fluoridated toothpastes to meet your specific needs.
Natural colours.
Contains natural herb extracts and oils.
Fights plaque and decay.
Helps protect gums.
Natural anti-bacterial action.
Mild minty taste.
Paraben free.
Colour free.
No tricoslan, peroxide, potassium nitrates, or strontium chloride.
INGREDIENTS:
Calcium carbonate:

 

Mild abrasive and polisher.
Purified water.
Sorbitol:

 

Keeps toothpaste moist and acts as a sweetener.
Glycerin:

 

Vegetable-based sweetener and moistener.
Sodium lauryl sulphate:

 

Coconut-based foaming agent.
Silica
Cellulose gum:

 

Gumming agent sourced from plant fibre.
Magnesium aluminium silicate:

 

Thickener derived from naturally occurring minerals.
Stevia:

 

Natural herbal sweetener.
Eucalyptus oil.
Menthol.
Herbal mint flavour.
Peppermint oil
Liquorice extract
Zinc oxide:

 

Healing action on gums
Aniseed oil
Totarol:

 

Antibacterial action.
Pack size:

 

110 grams