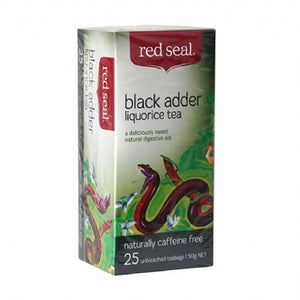 Red Seal Black Adder Liquorice Tea 25's
A delicious tea that aids digestion and helps control blood sugar!
Relaxes the mind and helps relieve nervous tension.
Doesn't contain caffeine.
Recommended for diabetics.
 Size: 25 Bags
Product Description
Red Seal Black Adder Liquorice Tea is packed with rich flavour, is naturally sweet and caffeine-free. It is specially formulated to aid with digestion, to relax stressed out nerves and to perk up your adrenal glands.
A naturally sweet, caffeine-free tea.
Has rich liquorice flavour.
Recommended for diabetics.
Contains liquorice, a natural tonic that helps balance the blood sugar level.
Key Ingredients
Liquorice root (Glycyrrhiza glabra), Fennel seeds and Oil (Foeniculum vulgare), Peppermint (Mentha x piperita), Aniseed (Pimpinella anisum)
How to Use
Pour just-boiled water over the teabag.
Let it draw for 3 - 5 minutes.
Serve hot.
Herbal teas often require a longer drawing time but their aromas, flavours, and herbal properties make the wait worthwhile.
Store in an airtight container.
Note: Recommended a limit of 2 cups per day as some people may experience water retention with higher consumption.
Warning
Not recommended for people with a history of high blood pressure or kidney disease.
Not recommended during pregnancy.
About Red Seal
Red Seal was founded in 1923 and is a New Zealand brand, specialising in natural products. The Red Seal brand purpose is to provide good quality products at a reasonable price that will improve your health. Red Seal believes the world would be a better place if everyone could have 'premium health'. Red Seal is best known in New Zealand for its range of supplements, teas, and toothpastes. They also market soaps, blackstrap molasses, sea salt, UMF honey and protein powders. Internationally the Red Seal toothpaste and Blackstrap Molasses, in particular, are to be found in many markets.