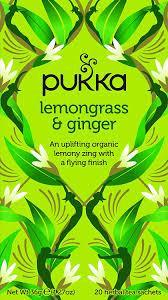 Pukka Lemongrass & Ginger Tea 20 Bag
Good news for uplifting and refreshing your day
Made with organic ginger, lemon verbena, lemongrass and licorice
One sip and you're ready to soar, take to the sky in a swirl of lemony freshness
Naturally caffeine free and ethically sourced, 100% organically grown ingredients
Defy all the laws and fly. Flying, they say, you can't do it without wings. Or can you? A zesty swirl of the finest lemongrass, the spicy lift of ginger – steep them together... and suddenly it's 'goodbye physics' and 'hello blue sky'. One sip and you're ready to soar. Take to the sky.
Every Pukka plastic-free tea bag comes in its own recyclable envelope to retain the essential oils in our organic herbs. Each bag has two chambers, allowing these incredible herbs to flow and release the full potency in your cup. To help the flavours to fully disperse, pour boiling water directly on the bag. Every herb loves the water, so leave them to steep for the perfect brew. And remember to boil just the amount of water you need to make your cuppa as sustainable as it can be.
100% organically grown and ethically sourced ingredients: Lemongrass (44%), lemon verbena leaf, licorice root, ginger root (28%), amla fruit, lemongrass extract.
Size: 20 bags