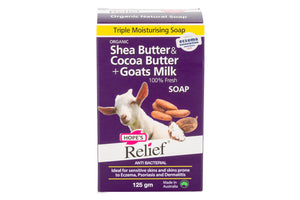 Here's why our Shea Butter, Cocoa Butter & Goat's Milk Soap is great for your skin
Organic shea butter, cocoa butter and fresh goat's milk are three of nature's most nourishing and antioxidant-rich moisturisers.
Shea butter is rich in vitamins A and E for antioxidant, anti-aging and anti-inflammatory actions.
Cocoa butter is anti-oxidant rich and melts on contact with the skin, helping to penetrate with antioxidants, as well as act as an emollient to lock in moisture and protect skin from the harsh elements of the environment.
The pH balance of the fatty acids found in goat's milk is very similar to the pH levels found in the human body, enabling rapid absorption of nutrients and moisturisers.
The lactic acid in goat's milk helps the natural process through which we continually shed old cells as new ones are formed.
The proteins in goat's milk kill acne-producing bacteria, great for teens and for those with acne-prone skin.
It also contains glycerin, a unique natural ingredient that attracts moisture to the skin helping it to stay soft and supple.
These superb ingredients make Hope's Relief Goats Milk Soap so soothing for itchy, dry and sensitive skins. You can enjoy washing without irritating or stripping moisture from your skin.
Who can benefit from gentle cleansing with our luxurious Shea Butter, Cocoa Butter & Goat's Milk Soap?
Everyone can benefit even people with healthy skins. Ideal for everyday cleansing, Hope's Relief Soap is great for:
children, adults and the precious skin of babies
people with dry skin, oily skin, acne and healthy skin
people with skin prone to eczema, psoriasis and dermatitis.
Natural ingredients
We believe in natural skin care ingredients and making a positive difference to people's lives. The Hope's Relief natural skin care range embraces the power of nature's botanicals for their nourishing benefits. Our Hope's Relief Shea Butter, Cocoa Butter & Goat's Milk Soap is enriched with Certified Sustainable Palm Oil and:
cocoa butter
shea butter
fresh goat's milk
glycerin
sodium palmate
sodium cocoate
sodium palm kemelate.
Our biodegradable products are alkaline-free and pH-balanced with recyclable packaging.
How to use
For clean hydrated skin, wet your skin.
Add warm water to your hands and create a lather with the soap.
Foam can be also used on a gentle loofah/sponge to gently exfoliate your body.
Massage over the skin on your body.
Rinse and then pat skin gently to dry.
Regular use results in increases benefits to the skin.
For optimum results, use with our complementary Moisturising Lotion

 

and Itchy Dry Skin Cream