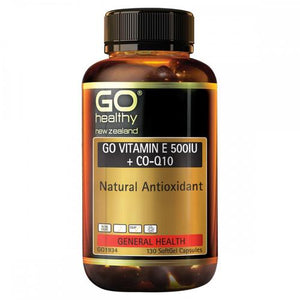 GO VITAMIN E 500IU + CO-Q10 is a potent antioxidant combination of natural Vitamin E and Co-Enzyme Q10 which supports healthy, energised skin, nails and hair. Toxins and pollutants such as alcohol, cigarette smoke, drugs as well as daily stress cause free radical damage which ages the body's cells and skin. Vitamin E and Co-Enzyme Q10 support beauty from within by helping mop up free radicals to provide optimum cellular health.
Antioxidant action
Free radical scavenging support
Supports healthy skin, nails and hair
Supports optimum cellular health
Size: 65 Capsules

INGREDIENTS
Vitamin E 500IU, Co-Enzyme Q10 5mg
Made by GO Healthy in New Zealand from select imported ingredients.
SUGGESTED DOSE
Adults: Take 1-2 SoftGel Caps. Best taken with food. Or as directed by your Healthcare Professional.
SAFETY INFORMATION
Discontinue use at least 2 weeks prior to major surgery. Seek approval from your Healthcare Professional prior to taking during pregnancy and breastfeeding.
Always read the label. Take only as directed.

MEDICINE INTERACTIONS: Do not take if on blood thinning medication. If taking prescription medication or if in doubt, please consult your Healthcare Professional.