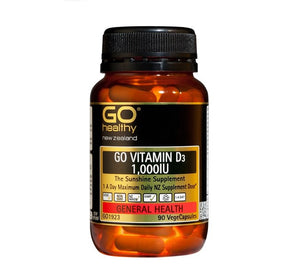 Go Healthy GO Vitamin D3 Capsules Contain Vitamin D3 (Cholecalcierol) to Support Healthy Bones, Immune Protection and a Positive, Healthy Mood
Go Healthy GO Vitamin D3 is a One-A-Day Capsule Formulated at the Maximum New Zealand Supplement Strength
Go Healthy GO Vitamin D3 is often referred to as the sunshine supplement as our body naturally produces Vitamin D when exposed to sunshine. Due to conditions in winter, sunscreens and our indoor lifestyle, the body's ability to produce optimal Vitamin D levels may result in a deficiency in this important nutrient. Vitamin D is essential for bone health immune protection and positive mood.
Go Health GO Vitamin D is useful for people who have a Vitamin D deficiency and those that do not get enough sun exposure such as working indoors and staying inside during daylight hours. It also may be of support during the winter months. Go Healthy GO Vitamin D3 is a good source of Vitamin D for people with SAD (Seasonal Affective Disorder) and Osteoporosis.
Size: 90 Capsules
Go Healthy GO Vitamin D3 Benefits:
Each VegeCap provides a full New Zealand maximum daily dose of Vitamin D3
Essential for bone health and immunity
Supports positive mood
VegeCap Advantage 
VegeCap Advantage: The VegeCaps used are made from Non GMO vegetable cellulose and are 100% free from animal products. VegeCaps are easily digested once swallowed, giving optimum absorption of ingredients.
Directions: Adults: Take 1 VegeCap daily. Best taken with food
Ingredients: Each capsule contains:
Vitamin D3(cholecalciferol - 1,000IU
No yeast, corn, wheat, gluten, milk, artificial flavours or preservatives
Precautions: Keep out of reach of children. Not to be used during pregnancy or lactation unless under medical supervision. If you are taking prescription medicines, please consult your healthcare practitioner before using Go Healthy GO Vitamin D3. Caution is required with certain drugs incluing digoxin, blood pressure medications and thizide diuretics. Those with hyperparathyroidism or sarcoidosis should not take Vitamin D without consulting a physician. Do not take Go Healthy GO Vitamin D3 if you have a known allergy to any of the ingredients listed. Always read the label and take only as directed.
Presentation: Each pack contains 90 capsules.
FREE DELIVERY WORLDWIDE - Go Healthy GO Vitamin D3
Buy Go Healthy GO Vitamin D3 x 1 for NZD$17.00
Buy Go Healthy GO Vitamin D3 x 2 for NZD$30.00
Do you need more information about Go Healthy GO Vitamin D3? Please send your question about Go Healthy GO Vitamin D3 here
Medicines, herbal remedies and dietary supplements have benefits and may have risks. Always read the instructions carefully and use Go Healthy GO Vitamin D3 strictly as directed. If your symptoms continue or you have side effects consult your healthcare professional promptly.