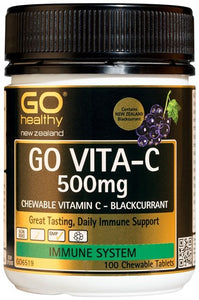 GO VITA-C 500mg Blackcurrant is a great tasting, chewable Vitamin C formula, essential for boosting the health of the immune system, and reducing the severity and duration of those winter ills and chills.

Size: 100 Tablets
Ingredients
Sodium Ascorbate ((376mg) Equiv. to Vitamin C 300mg)
Vitamin C (Ascorbic Acid) ((206mg) Equiv. to Vitamin C 200mg)
Vitamin C (Total Vitamin C per tablet 500mg)
Always read the label. Use only as directed. If symptoms persist or you have side effects see your healthcare professional. Vitamins are supplementary to a balanced diet. Weight Management products should be used in conjunction with a balanced diet and exercise.