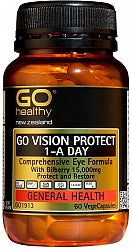 GO Healthy Go Vision Protect

 
1-A-DAY is a comprehensive eye formula designed to support eyes and provide them with the nutrients to support good vision.
Key ingredients such as Bilberry, Yumberry and Eyebright along with many other supporting nutrients specific for tired eyes, eye fatigue, eye irritation and sensitivity to glare.
GO Healthy Go Vision Protect 1-A-DAY formula supports age-related eye health and is suitable for long periods of computer screen watching.
Size: 60 Capsules

Benefits:
Supports eye health and vision

Useful in eye fatigue from computer screens or driving

Helps protect from age-related deterioration

1-A-Day formula

VegeCap Advantage

May be beneficial for the following symptoms:

Tired eyes

Eye fatigue

Sore eyes

Extended periods of computer work

Poor night vision

Sensitivity to glare

Age-related vision problems

Headaches resulting from eye stain

Dry eyes
Active Ingredients:
Each Capsule Contains:
Beta-carotene                                                           4mg;
Bilberry (Vaccinium myrtillus) ext. equiv. to 15,000mg
        provideng Anthocyanosides                         37.5mg;
Blackcurrant fruit powder equiv. to fresh fruit      490mg;
Citrus Bioflavonoids                                                50mg;
Copper gluconate (equiv. to Copper 500IU)         3.57mg;
Eyebright (Euphrasia officinalis) ext. equiv. to      150mg;
Marigold Flowers (Tagetes erecta) ext. equiv. to 9,600mg
         providing Lutein                                               12mg;
Selenium (from Selenomethionine)                         150mcg;
Taurine                                                                      50mg;
Vitamin B2 (Riboflavin)                                           30mg;
Vitamin C (ascorbic acid)                                        100mg;
Yumberry (Myrica rubra) ext. equiv. to fruit          300mg;
Zeaxanthin esters                                                     800ug;
Zinc citrate (Equiv. to Zinc 15mg)                         46.7mg