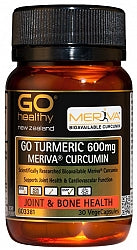 GO Turmeric 600mg Meriva Curcumin

 
- Supports Joint Health & Mobility, Cardiovascular Function and the health of our Digestive System.
GO Turmeric 600mg has been formulated using Meriva, a patented and scientifically researched form of Curcumin.  It is a potent antioxidant that offers many health benefits. Meriva helps to deliver Curcumin, enveloped by phospholipids in a patented molecular complex, improving bioavailability and absorption.
Suitable for
 - joint ailments
 - joint stiffness
 - sore muscles
- inflammation
 - cholesterol concerns
 - gastrointestinal conditions
Size: 30 Capsules

Benefits:
Meriva® helps to deliver Curcumin, improving bioavailability and absorption.

supports joint health

support healthy cholesterol levels

support digestive health

vegecap advantage
Active Ingredients:
Each Capsule contains:
Turmeric (600mg)
Dosage:
Adults:
Take 1 capsule daily