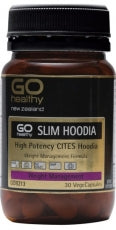 Supports reduced calorie consumption.

Go Healthy Slim Hoodia is a high potency triple action weight management formula.

The formulas main action is to support reduced calorie consumption.

Size: 60 Capsules
What else should I know?
Classification
General Sale
Active Ingredients

Ingredients per VegeCapsule:

Hoodia (Hoodia gordonii) extract 8,000mg, Rose Root (Rhodiola rosea) extract 50mg, Green Tea (Camellia sinensis) extract 600mg, Gymnema (Gymnema sylvestre) extract 100mg, Siberian Ginseng (Eleutherococcus senticosus) extract 50mg, L-Tryptophan 25mg, L-Tyrosine 25mg, Citrus Bioflavonoids 40mg, Vitamin B1 2mg, Vitamin B2 18mg, Vitamin B6 20mg, Vitamin B12 10mcg.

Dosage

Adults take 1 to 2 VegeCaps daily. Best taken 30-60 minutes before breakfast or lunch. Take for a minimum of 14 days for full effect to be noticed. (In some cases effects can be noticed within as little as 48 hours).
Ensure a sensible healthy diet, exercise and drinking plenty of water is maintained during a weight management program and is continued after your goals are met. Or as directed by your Healthcare Professional.

Warnings

Not recommended to be taken during pregnancy or lactation. Always read the label. Take only as directed. If taking prescription medication or if in doubt, consult your Healthcare Professional.