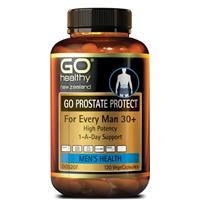 Go Healthy GO Prostate Protect is Formulated for Men 30+ to Support Urine Flow and Healthy Prostate Function
Go Healthy GO Prostate Protect Provides a High Potency Combination of Specific Herbal Extracts of Saw Palmetto, Epilobium, Damiana and Pumpkin Seed, with Zinc, Selenium and Lycopene
Go Healthy GO Prostate Protect contains a complex of key ingredients that help support prostate function and healthy urine flow. Saw Palmetto has been supplied in a maximum strength dose, to provide optimum support for the prostate. This is a vegetarian formulation provided as a convenient 1-A-Day Supplement, suitable for long-term support. GO Prostate Protect also supports normal sexual function.
Size: 120 Capsules
Go Prostate Protect is Formulated to Support Customer Symptoms:
Medically diagnosed BPH (Benign Prostate Hyperplasia)
Increased frequency and urgency to urinate
Waking several times throughout the night to urinate
Poor urinary flow and a variable flow rate
Inability to completely empty the bladder
Leaking or dribbling
Low libido 
VegeCap advantage: The VegeCaps used are made from Non GMO vegetable cellulose and are 100% free from animal products. VegeCaps are easily digested once swallowed, giving optimum absorption of ingredients. VegeCaps are suitable for all people including Vegetarians and Vegans
Directions: Adults: Take 1 VegeCap daily. Can be taken anytime, with food or on an empty stomach. For best results this product should be used long term.
Ingredients: Each vegecap contains:
Zinc (Zinc citrate (equiv. to 15mg Zinc) - 50mg
Pumpkin Seed (ext. equiv. to dry seed) - 100mg
Damiana (ext. equiv. to dry herb) - 320mg
Selenium - 50mcg
Saw Palmetto (Fruit ext. equiv. to dry) - 4,500mg
Lycopene - 5mg
Epilobium (ext. equiv. dry leaf) - 1,000mg
Vegetarian Capsules - 100% Cellulose
No added yeast, corn, wheat, gluten, milk, artificial flavours or preservatives
Suitable for Vegetarians and Vegans
Precautions: Keep out of reach of children. Do not take Go Healthy GO Prostate Protect if you have a known allergy to any of the ingredients listed.
Presentation: Each pack contains 120 vegetable capsules.
FREE DELIVERY WORLDWIDE - Go Healthy GO Prostate Protect
Buy Go Healthy GO Prostate Protect x 1 for NZD$54.00
Buy Go Healthy GO Prostate Protect x 2 for NZD$104.00
Go Healthy GO Prostate Protect is also available in a pack size of 60 - click

 

here

 

to view
Do you need more information about Go Healthy GO Prostate Protect? Please send your question about Go Healthy GO Prostate Protect here
Medicines, herbal remedies and dietary supplements have benefits and may have risks. Always read the instructions carefully and use Go Healthy GO Prostate Protect strictly as directed. If your symptoms continue or you have side effects consult your healthcare professional promptly.