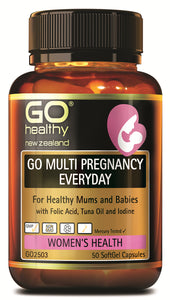 GO MULTI TEEN EVERYDAY is a complete multi vitamin and mineral supplement tailored specifically to the needs of teenagers. GO Multi Teen Everyday provides a strong nutritional foundation to help fill in the gaps often seen in teen diets, while also taking into account the daily stress and busy lifestyles that teenagers lead. GO Multi Teen Everyday works to support healthy skin, energy levels, mental clarity and focus, all in an easy to take one capsule per day dose.
Convenient one a day dose
For use when dietary intake is inadequate
Supports health and energy
Supports mental clarity and mood
Helps fight fatigue and every day stress
VegeCap Advantage
 Size: 60 Capsules

Suggested Dose
Take 1 VegeCap daily. Best taken with food, in the morning. Or as directed by your Healthcare Professional.
Ingredients per VegeCap
Alpha Lipoic Acid 10mg, Beta-carotene 4mg, Bilberry (Vaccinium myrtillus) ext. equiv. to dry fruit 200mg, Brahmi (Bacopa monniera) ext. equiv. to dry herb 3,000mg, Calcium citrate (equiv. to 12.5mg Calcium) 52mg, Choline bitartrate 40mg, Chromium picolinate 150mcg, Citrus Bioflavonoids 3mg, Co-Enzyme Q10 (Ubidecarenone) 2mg, Ginkgo (Ginkgo biloba) ext. equiv. to dry leaf 60mg, Gotu Kola (Centella asiatica) ext. equiv. to 200mg, Inositol 15mg, Iron (as Ferrous fumarate equiv. to Iron 9.1mg) 3mg, Japanese Knotweed (Polygonum cuspidatum) ext. equiv. to 1,600mg Equiv. to Resveratrol 10mg, L-Tyrosine 150mg, Magnesium amino acid chelate (equiv. to 10mg Magnesium) 50mg, Manganese amino acid chelate (equiv. to 1mg Manganese) 5mg, Selenium (as selenomethionine) 10mcg, Siberian Ginseng (Eleutherococcus senticosus) ext. equiv. to rt 100mg, Vitamin B1 (Thiamine hydrochloride) 15mg, Vitamin B2 (Riboflavin) 15mg, Vitamin B3 (Nicotinamide) 15mg, Vitamin B5 (Calcium pantothenate) 15mg, Vitamin B6 (Pyridoxine hydrochloride) 15mg, Vitamin B7 (Biotin) 100mcg, Vitamin B9 (Folic Acid) 150mcg, Vitamin B12 (Cyanocobalamin) 15mcg, Vitamin C (Ascorbic acid) 60mg, Vitamin D3 (Cholecalciferol) 100IU, Vitamin E (D-alpha-tocopherol) 2IU, Zinc citrate (equiv. to 15mg Zinc) 50mg
Safety Information
Not to be taken during pregnancy or lactation. Always read the label. Take only as directed. If taking prescription medication or if in doubt, please consult your Healthcare Professional.