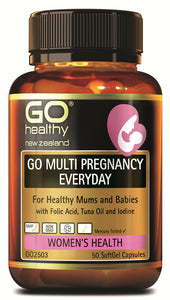 GO MULTI PREGNANCY EVERYDAY for preconception, pregnancy and breastfeeding support. An all in one multi vitamin supplement to help meet the nutritional needs that are increased during this time.
Natural support during preconception through to breastfeeding
Natural support for mother and baby
Addition of Tuna Oil for healthy brain development
Two SoftGel Caps provide 300mcg Folic Acid
Size: 50 Capsules
A Note on Folic Acid & Pregnancy Multivitamin Formulas:
The NZ Ministry of Health (MOH) restricts the amount of folic acid available in non-pharmacy nutritional supplements to 300mcg. Some sources, including the MOH's own guidelines, indicate that a higher daily intake (e.g. 600-800mcg plus) of Folic Acid is more appropriate, especially in the early stages of pregnancy.
Directions
Adults: Take 1-2 SoftGel Caps.
Can be taken anytime, with food or on an empty stomach. Or as directed by your Healthcare Professional.
Precautions
Always read the label.
Take only as directed.
If taking prescription medication or if in doubt consult your Healthcare Professional