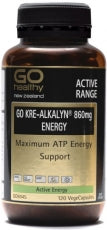 GO KRE-ALKALYN 860mg is designed to improve exercise, performance, increase muscle mass and give maximum energy support. Kre-Alkalyn is the ideal supplement for people undertaking any activity requiring energy such as exercising, sport, gym workouts as well as walking, gardening or getting through a busy day.

Unlike other Creatine products GO Kre-Alkalyn 860mg Energy does not require loading or cycling, It is also great for both men and women as it does not cause bloating or side effects often associated with Creatine products.

 Size: 120 Capsules
What else should I know?
Classification
General Sale
Active Ingredients

Ingredients per VegeCapsule:

Kre-Alkalyn (pH Correct Creatine) 860mg

Dosage

Men take 2 to 4 VegeCaps daily
Women take 1 to 3 VegeCaps daily, best taken in the morning with or without food.
Or as directed by your Healthcare Professional.

Warnings

Not to be taken during pregnancy or lactation. Seek medical advice if suffering from kidney disorders. No known restrictions on duration of use when following recommended dose.
Always read the label. Take only as directed. If taking prescription medication or if in doubt, please consult your Healthcare Professional.

Customer Review
NOTE: Customer reviews are written by website visitors and are not intended as medical advice.