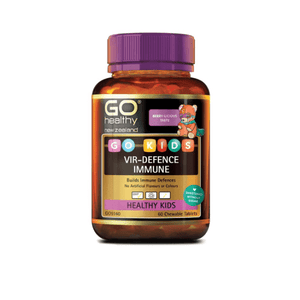 GO KIDS VIR-DEFENCE IMMUNE is a great tasting berry-licious chewable tablet, designed specifically to support children's immunity. A strong immune system is the best defence against germs and bugs. GO Kids Vir-Defence Immune contains a combination of Vitamin C, D, Zinc, Echinacea and Elderberry to help build defences, keep winter ills and chills at bay and keep the immune system healthy. This blackcurrant flavoured, cute superbear shaped chewable tablet can be taken daily to build immunity or when needed to "top up" immune defences.
Yummy natural berry-licious taste.
No artificial flavours or colours.
Cute superbear shaped tablet, fun and easy to take.
Supports a healthy immune system.
Defends against ills and chills.
 Size:  60 chews
Directions
Suggested Dose: Children from age 2+: take 1-2 Chewable Tablets daily.
Best taken with food, or as directed by your Healthcare Professional.
Safety Information: Children should be supervised by an adult while taking tablets (choking hazard). If symptoms persist seek the advice of a Healthcare Professional. Always read the label. Take only as directed.
Medicine Interactions: If taking prescription medication or if in doubt consult your Healthcare Professional.