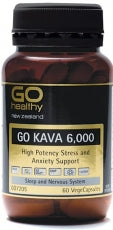 GO KAVA 6,000 is designed to support the body through times of stress and anxiety.

This non drowsy formula promotes relaxation, supporting the body's natural response during times of increased mental and physical stress.

Size: 60 Capsules
What else should I know?
Classification
General Sale
Active Ingredients

Ingredients per VegeCapsule:

Kava root (Piper methysticum) extract 6,000mg
Providing Kava Lactones 60mg

Dosage

Adults take 1 VegeCap daily. Best taken before bed, or as directed by your Healthcare Professional.

Warnings

Not recommended for long term use (6 weeks at one time maximum). Not recommended during pregnancy or lactation. Avoid if diagnosed with Hepatitis or Parkinsons Disease.

Always read the label. Take only as directed. Not to be taken with anti-depressants unless under medical supervision. If taking prescription medication or if in doubt, please consult your Healthcare Professional.