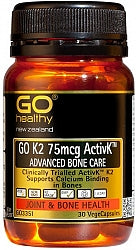 GO Healthy GO K2 75mcg Advanced Bone Care
contains a complete dose of 75mcg of clinically trialled Activ
K (
Vitamin K2).  Vitamin K2 supports Calcium binding to bones, this helps to ensure bones stay strong and healthy and less likely to fracture and deteriorate.  Clinical trials also show K2 to be beneficial in supporting the healthy removal of Calcium from artery walls, which is a significant health advancement.  Active
K
is a pure natural extract derived from Natto, traditional Japanese fermented soya beans, and is the richest known source of Vitamin K2.
 Size: 30 Capsules

Benefits:
1-a-Day clinically trialled dose per VegeCap

Supports strong healthy bones

Supports Calcium removal from artery walls

VegeCap Advantage

May be beneficial for the following symptoms:

Loss of bone density

Looking for a product to help keep bones strong and healthy

Osteoporosis

Hip fractures

Calcium deficiency

Menopause

Cardiovascular disease
Active Ingredients:
Each Capsule contains:
Vitamin K2 (ActivK)   75mcg
Activ
K
is a trademark of Danisco
Dosage:
Adults:
Take 1 VegeCap daily.
Children (age 12+):
Take 1 VegeCap daily.

Best taken with food,
Can be taken during pregnancy and lactation.
Or as directed by your Healthcare Professional.
Warnings:
Always read the label.  Take only as directed

Do not use if taking

 

blood thinning medications

.

If taking

 

prescription medication

 

or if in doubt, Please consult your Healthcare Professional