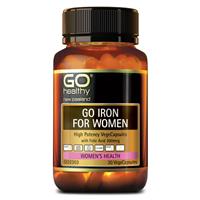 Go Healthy Iron for Women
Proudly Made by GO Healthy in New Zealand From Select Imported Ingredients
Size: 30 Capsules
Warnings
Always read the label. Take only as directed. If taking prescription medication or if in doubt, please consult your Healthcare Professional.
Common Uses
High Potency VegeCaps with Folic Acid 300mcg
Ingredients
Iron (as Ferrous fumarate 77.5mg) 24mg, Zinc citrate (equiv. to 500mcg Zinc) 1.7mg, Copper gluconate (equiv. to 50mcg Copper) 3.9mg, Vitamin C (Ascorbic Acid) 150mg, Citrus Bioflavonoids 50mg, Vitamin B1 25mg, Vitamin B2 20mg, Vitamin B3 50mg, Vitamin B5 30mg, Vitamin B6 25mg, Biotin 150mcg, Folic Acid 300mcg, Vitamin B12 25mcg, Manganese amino acid chelate (equiv. to 550mcg Manganese) 2.75mg, Potassium citrate (equiv. to Potassium 4mg) 11mg
Directions
Adults: Take 1 VegeCap daily. Can be taken anytime, with food or on an empty stomach. Or as directed by your Healthcare Professional.