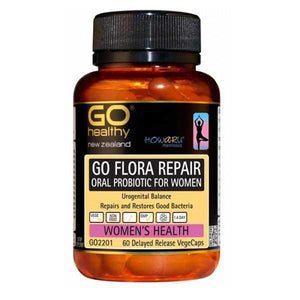 GO FLORA REPAIRprovides three researched premium probiotic Lactobacillus strains, designed specifically for women. Urinary tract health, imbalances in vaginal flora, and digestive complaints are common issues experienced by women.This blend helps to repair and restore good bacteria, support vaginal, bladder and urinary health. It also supports digestive harmony. Supplied in a VegeCapsule using Delayed Release technology.
 Size: 60 Capsules
Features:
Women's 1-A-Day oral probiotic
Repairs and restores good bacteria
Urogenital balance
Shelf stable
Delayed Release VegeCap technology for modified release and to ensure probiotic survival
Precautions:
Always read the label.
Take only as directed.
Directions
Adults:Take 1 VegeCap daily. Can be increased to 2 VegeCaps daily if required.
Best taken with food. Or as directed by your Healthcare Professional.