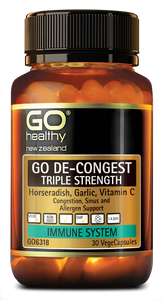 GO DE-CONGEST TRIPLE STRENGTH is a high potency Horseradish, Garlic and Vitamin C formula. These ingredients at triple strength levels are well known to support clear airways in the head and chest when exposed to winter ills and chills, and allergens. Includes additional ingredients such as Fenugreek, Marshmallow and Bromelain to help thin and clear mucus.
Triple strength high potency
Supports healthy sinuses
Helps thin mucus and clear airways
VegeCap Advantage
Size: 30 Capsules
INGREDIENTS
Bromelain 25mg
Fenugreek
ext. equiv. to dry seed 1,000mg
Garlic
ext. equiv. to dry bulb 1,200mg
Horseradish
ext. equiv. to dry root 4,000mg
Marshmallow 
ext. equiv. to dry root 1,000mg
Vitamin C 500mg
Made by GO Healthy in New Zealand from select imported ingredients.
WARNINGS
Not to be taken during pregnancy or lactation.
Horseradish can aggravate existing inflammatory digestive conditions. If symptoms persist consult your Healthcare Professional.  
Discontinue use 2 weeks prior to surgery.
Not to be taken in conjunction with anti-coagulant and/or anti-platelet medications.
Always read the label. Take only as directed.
If taking prescription medication or if in doubt, please consult your Healthcare Professional.