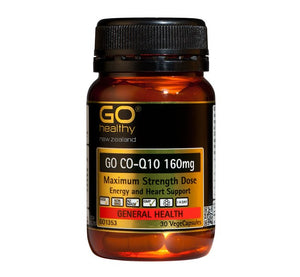 GO CO-Q10 160mg is a high potency, one a day dose. Co-Enzyme Q10 is a natural substance essential for cellular energy production known as ATP (Adenosine Triphosphate). Co-Enzyme Q10 is found in every living cell in the body and supports the health of the heart, energy levels and is a known powerful antioxidant.
High potency dose per VegeCapsule
Supports a healthy heart
Assists energy production
Supports healthy gums
VegeCap Advantage
Size: 60 Capsules
SUGGESTED DOSE
Adults: Take 1 VegeCap daily. Best taken with food. Or as directed by your Healthcare Professional.
INGREDIENTS
Co-Enzyme Q10 160mg
Made by GO Healthy in New Zealand from select imported ingredients.
SAFETY INFORMATION
Not to be taken during pregnancy or lactation.
Do not take if on blood thinning medication without medical advice.
Always read the label. Take only as directed.
If taking prescription medication or if in doubt consult your Healthcare Professional.
General Safety Information
Always read the label. Use only as directed.
Nutritional supplements may only be of assistance if the dietary intake is inadequate.
Supplements should not be used to replace a healthy balanced diet and adequate physical exercise.
Keep all medications and supplements out of reach of children.
If symptoms persist see your healthcare professional.