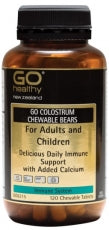 Daily Immune Support with calcium.

Go Colostrum Chewable Bears contains 100% New Zealand Colostrum and Calcium. The chewable tablets are ideal for adults and children and are a delicious way of taking your daily immune boost.

Colostrum is rich in immune supporting ingredients, including a rich blend of proteins, antibodies, antioxidants, vitamins, minerals and amino acids. These help promote healthy immune function and intestinal health. Calcium has been added to help support strong teeth and bones.

Size: 120 Capsules
What else should I know?
Classification
General Sale
Active Ingredients

Ingredients per VegeCapsule:

Colostrum (NZ SOURCED, GE FREE) 260mg
Whole milk powder 367mg
Calcium phosphate dehydrate 64.3mg

Dosage

Adults take 1 to 3 Chewable Tablets daily.
Children (Age 5+) take 1 to 2 Chewable Tablets daily.

Can be taken anytime, with foor or on an empty stomach. Or as directed by your Healthcare Professional.

Warnings

Not to be taken during pregnancy or lactation. Always read the label. Take only as directed. If taking prescription medication or if in doubt, consult your Healthcare Professional.