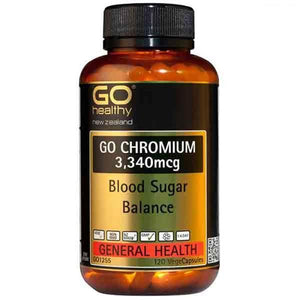 GO Healthy GO CHROMIUM 3,340mcg supports balanced blood sugar levels. When blood sugar levels are out of balance a person will crave sugar. Chromium is an essential trace element which is required for normal insulin function.
Size: 120 Capsules

Benefits:
Supports healthy carbohydrate metabolism

Assists with sugar cravings

VegeCap Advantage

Convenient one a day full dose

May be beneficial for the following symptoms

Carbohydrate cravings

Sugar cravings

Low blood sugar levels

Insulin resistance

Overweight
Active Ingredients:
Each Capsule contains:
Chromium picolinate (equiv to Chromium 400mcg)     3,340mcg
Dosage:
Adults:
Take 1 VegeCap daily.
Best taken on an empty stomach between breakfast and lunch.
Or as directed by your Healthcare Professional.
Warnings:
Not to be taken during

 

pregnancy or lactation

Chromium supplements can decrease

 

insulin requirements in diabetics

Always read the label.  Take only as directed.

May

 

lower blood sugar levels.  If taking medication for diabetes

 

consult your Healthcare professional prior to taking

If taking

 

prescription medication

 

or if in doubt, please consult your Healthcare Professional.