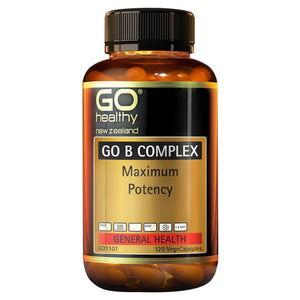 GO Healthy GO B COMPLEX contains a full spectrum of B Vitamins to help support the health of the nervous system, promoting good mood, mental clarity and providing the body with energy.
Size: 60 Capsules

Benefits:
Convenient one a day dose

Encourages energy production

Supports the body in times of stress

Nourishes the nervous system

VegeCap Advantage

May be beneficial for those with symptoms of:

low energy

feeling stressed

anxious

exhausted

irritable

poor concentration

poor memory

unbalanced diet
Active Ingredients:
Each capsule contains:
Vitamin B1 (Thiamine hydrochloride) 110mg
Vitamin B2 (Riboflavin) 110mg
Vitamin B3 (Nicotinamide) 100mg
Vitamin B5 (D-calcium Pantothenate) 110mg
Vitamin B6 (Pyridoxine hydrochloride) 110mg
Vitamin B7 (Biotin) 120mcg
Vitamin B9 (Folic Acid) 300mcg
Vitamin B12 (Cyanocobalamin) 50mcg
Choline Bitartrate 55mg
Inositol 55mg.
Dosage:
Adults:
Take one capsule daily. Best taken in the morning with food, or as directed by your Healthcare Professional.
Warnings:
Not to be take during

 

pregnancy or lactation

Always read the label and take only as directed.

If taking

 

prescription medication

 

or if in doubt, please consult your Healthcare Professional.