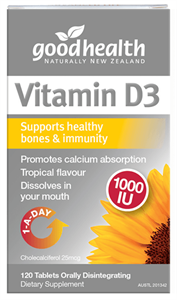 Good Health Vitamin D3 provides 1000IU of Vitamin D3, the sunshine vitamin. Vitamin D helps to build and maintain strong healthy bones by supporting the uptake and absorption of calcium into the bone. It also helps with managing the winter blues by supporting mental and emotional wellbeing.

Good Health Vitamin D3 is a delicious tropical flavoured tablet that instantly dissolves in your mouth so it's ideal for people of all ages. It's important for those that spend much of their time indoors at work, school or home.
Size: 60 Tablets
Recommended for
Maintaining strong healthy bones and teeth in all ages and stages in life
Supporting calcium absorption and use
Muscle support
Supporting a healthy immune system
Bone / Skeletal health
Seasonal mood support
Ingredients:

 

(per tablet)
Cholecalciferol (Vitamin D3 1000IU)
25mcg


Formulated Without
Formulated without wheat, gluten, dairy, egg, fish, artificial sweeteners, preservatives or colours.


Dosage
Adults and children over 3 years of age take 1 tablet daily or as professionally advised.


Contra-indications
Possible interference with calcium channel blockers
Hypercalcaemia
Not to be taken with hyperparathyroidism without medical supervision
Take 2 hours away from cholesterol lowering medication (as Vitamin D is fat soluble)