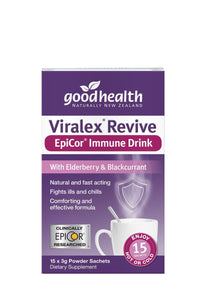 Natural, fast acting and effective immune drink with Elderberry and blackcurrant for immune support.
Good Health Viralex Revive contains clinically researched EpiCor that provides powerful immune support to fight ills and chills and supports gut health.
Size: 15 sachets

Elderberry and NZ Blackcurrant provide a source of vitamin C and bioflavonoids to support immunity.

Comes in an easy-to-take powder sachet/ drink format that is portable for travel too.

Delicious flavour and can be enjoyed hot or cold.

Formulated without artificial colours, flavours, sweeteners or preservatives. No added nasties.

No added sugar. Sweetened with stevia.

Contains no paracetamol.

Safe for everyday use.


What else should I know?
Classification
General Sale
Active Ingredients
Active ingredients per tablet
| Ingredients | Strength |
| --- | --- |
| EpiCor | 250 mg |
| Vitamin C | 500 mg |
| Sambucus nigra (Elderberry) Fruit | 3000 mg |
| Ribes nigrum (NZ Blackcurrant) Fruit | 6000 mg |
No added gluten, egg, fish, crustacean, dairy and soy.

 

Dosage
Adults: Take 1-2 sachets daily or as professionally advised.
Children 6 to 12 years: 1 sachet daily or as professionally advised.

Warnings
None known.