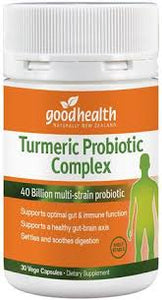 Good Health Turmeric Probiotic Complex combines 40 billion multi-strain probiotics with scientifically researched CurcuWIN®, a unique, highly bioavailable form of curcumin proven to be up to 46x more absorbable than other forms of curcumin.
The synergistic combination of turmeric with probiotics helps to restore gut flora, support everyday immunity, provide antioxidant protection and support the healthy function of the gut-brain axis.
Size: 30 Capsules


What is the gut-brain axis?
A constant two-way conversation between the gut and the brain that supports healthy nervous system responses. Click here to learn more.
Good Health Turmeric Probiotic Complex combines turmeric's powerful properties to help support mood, digestion and healthy neurological function alongside the well-known immune and gut health benefits of probiotics. Both working together to support optimal function of the gut-brain axis. The added herbs, slippery elm and aloe vera further soothe and settle general digestive health.
Key Features

Benefits

Unique, effective digestive formula.

Calms and soothes bloating, flatulence and supports stomach comfort.

Helps to support normal digestion for everyday health or on-going gut issues.

Multi-strain 40 billion Probiotic

Supports balance for gut dysbiosis and helps restore gut flora.

Supports everyday immunity, digestion, gut cell function and a healthy nervous system via the gut-brain axis.

Provides broad-spectrum gut care by supporting the trillions of bacteria found in our gut.

CurcuWIN® turmeric extract - a unique, highly bioavailable form of curcumin.

CurcuWIN® increases relative absorption of total curcuminoids by more than 46x over other enhanced forms of curcumin.

Powerful antioxidant action helping to protect against free radical damage. 

Provides neurological support.

Aloe Vera and Slippery Elm

Help soothe the stomach and digestive tract, further supporting healthy digestion and everyday gut health.

Superior synergistic combination of turmeric and 40 billion multi-strain probiotics.

Supports gut flora balance as well as soothing and supporting comfort for ongoing digestive issues.

Together they help support our gut and immune health, supporting healthy neurotransmitter production via the vagus nerve along the gut-brain axis and supporting a healthy nervous system response.

A healthy nervous system response supports a healthy heart rate, blood pressure, peristalsis and total mind and body wellbeing.

Delayed release vege capsule

Ensures probiotics survive the digestive tract and reach the gut.

Suitable for vegetarians.
Active Ingredients:

 

(per vege capsule)
 
Lactobacillus rhamnosus
12 Billion CFU
Lactobacillus plantarum
10 Billion CFU
Lactobacillus acidophilus
7 Billion CFU
Bifidobacterium lactis
7 Billion CFU
Lactobacillus paracasei
4 Billion CFU
Total live probiotic CFUs
40 Billion CFU
CurcuWIN®
  Equiv. Curcuminoids
100mg
20mg
Ulmus rubra

 

Bark Powder (Slippery Elm)
150mg
Herbal extracts equivalent to fresh:
 
Aloe barbadensis

 

Gel Juice (Aloe Vera)
 50mg

Formulated without 
Flavours, colours, sweeteners or preservatives. No added gluten, egg, yeast or wheat. Contains dairy and soy.


Dosage
Adult: Take 1 capsule daily at least 15 mins before a meal.
Acute dose: Take 1 capsule up to four times daily at least 15 mins before a meal or as professionally advised.
Suitable for vegetarians.
Always read the label and use only as directed. If symptoms persist consult your healthcare professional.

Contra-indications and cautions:
Not recommended during pregnancy or breastfeeding. 
Not to be taken while on anti-coagulant medication or blood thinning medication without medical advice.
Take 2 hours away from antibiotics.