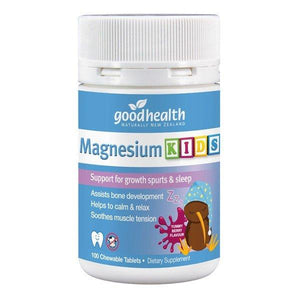 Good Health Magnesium Kids is vital for every cell in growing bodies, supports kids during growth spurts, soothes muscle tension and supports total well-being for a better night's sleep by having a calming and relaxing effect on busy minds and bodies. Magnesium Kids contains vitamins C, D and Zinc to help support well developed strong bones for later on in life in a delicious berry flavoured chewable tablet.
Key Features:
Complex formulation of essential minerals & vitamins
Bed time support
Helps to encourage healthy bone structure
Natural berry flavour
Cute kiwi imprint on chewable tablet
With Vitamin C, D & Zinc
Tooth friendly
No added dairy
No artificial colours, flavours, sweeteners or preservatives
Key Benefits:
Eases pain from growth spurts, soothes muscle tension, supports a better night's sleep & overall general well being
Supports restlessness & encourages a good night's sleep by relaxing the mind & body
Eases effects of growing pains and growth spurts
Yummy taste makes it enjoyable to take
Fun & easy to chew for kids
Provides building blocks for well structured & resilient bones
Helps to aid the absorption of magnesium
Kind on teeth
Dairy intolerant kids can benefit too
Directions
Children 4-8 years: Chew 1-2 tablets daily or as professionally advised.
Children 9 years +: Chew 2-6 tablets daily or as professionally advised.
Precautions
Keep out of reach of children.
Choking hazard.
Each chewable tablet contains:
Magnesium citrate 20mg 
Magnesium phosphate 35mg 
Total elemental Magnesium 55mg
Vitamin D3 (Colecalciferol) 100IU
Vitamin C (Sodium ascorbate) 50mg
Zinc (Gluconate) 1mg 
Also contains:
Tableting aids, xylitol (0.27gm) and sorbitol (0.2gms) as tooth friendly sweeteners, colours Natural colour – beet red, flavours Contains a natural flavour blend.
No added: Sugar, Gluten, egg, crustacea, fish, dairy, yeast, wheat and soy.
Suitable for vegetarians and vegans.