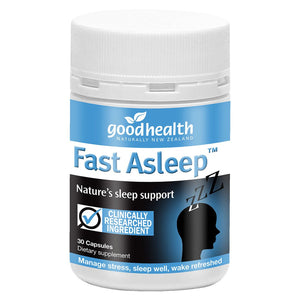 Good Health Fast Asleep™
 contains the clinically researched ingredient Panatonin™ (Panax notoginseng). 
Nature's sleep support
Manage stress, sleep well, wake refreshed
89% of users reported an improvement in sleep after taking Panatonin™ in a clinical study. Ziziphus has been used in traditional Chinese medicine for many years. 
 Fast Asleep™  assists in the management of stress and supports healthy sleeping patterns including falling asleep, staying asleep and quality sleep. Wake refreshed with Fast Asleep™.
Ingredients: (per capsule)

Herbal extracts equivalent to dry:
Panax notoginseng Leaf (Panatonin) 6,800mg
Ziziphus jujuba Seed 500mg
No artificial flavours, sweeteners, preservatives or colours used in this product.
No added gluten, egg, dairy or wheat.
Directions
Adults: Take 2 capsules daily, with food, half an hour before bed.