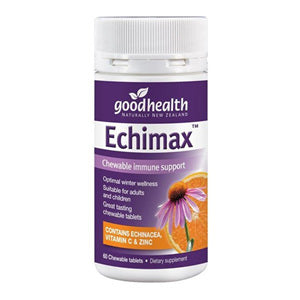 Good Health Echimax™ Chewable (60 tablets) combines Echinacea, Vitamin C and Zinc in a tasty chewable citrus flavoured tablet for optimal winter wellness and health throughout the year. 
 Ideal for adults and children to support the body's natural immune response.
Directions
Adults: Chew 1 to 2 tablets 3 to 4 times daily. 
Children 5 years and over: Chew 1 to 2 tablets daily or as professionally advised. 
Children 3-5 years: 1 tablet daily, crushed and added to food or drink.
Precautions
Choking hazard. Not to be taken by children under 3 years of age without medical advice.
Vitamin supplements should not replace a balanced diet.
Keep out of reach of children.
Do not use if cap seal is broken.
If symptoms persist consult your healthcare professional.
Do not use in place of prescribed anti-virals or anti-infectives.
Ingredients: (per tablet)
Herbal extract equivalent to fresh:
Echinacea purpurea herb juice 500mg
Slippery Elm powder 5mg
Total Vitamin C (from Sodium ascorbate and Ascorbic acid) 151mg
Zinc amino acid chelate 2.5mg (equiv zinc 500mcg)
Naturally sweetened with sugar. 
No artificial sweeteners, preservatives or colours used in this product. 
No added gluten, egg, dairy or wheat.