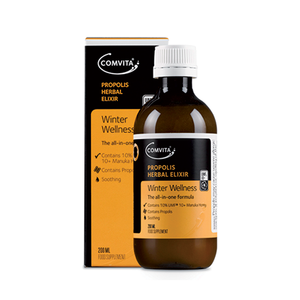 COMVITA PROPOLIS HERBAL ELIXIR IS A NATURAL ALL-IN-ONE HERBAL FORMULA DESIGNED TO SUPPORT WINTER WELLNESS AND TO SOOTHE DRY THROATS.
New Zealand Manuka has long been valued for its health-maintaining effects and Manuka Honey is gaining worldwide recognition for its unique properties and for supporting respiratory health.
Propolis contains high levels of active bioflavonoids, with well-known immune support and antioxidant properties.
Echinacea has immune supporting properties that have been found to assist good health, especially during winter.
Honey has long been recommended for coughs, colds and sore throats. It helps to soothe and has antibacterial actions. Manuka honey, which forms the base for these great-tasting products, has exceptional properties in this regard.

Coughs and colds can be caused by foreign viruses and bacteria. We rely on our own individual immune systems to eradicate these foreign organisms. The immune system can be likened to the body's police force. It fights, destroys and removes foreign invaders. Propolis helps to make the immune system work more efficiently; just as a police force with cars and radios functions more efficiently, so does an immune system with propolis.

Propolis has a soothing and cooling action on the throat, which helps to explain why people with sore throats have taken it for centuries. Suitable for all ages and stages, this range of products is a powerful, natural arsenal designed to fight winter ills. This range has been developed specifically to meet your family's needs over the winter season.
DOSE:
Adult:Take two teaspoons (10ml) every 2-3 hours required.
Children:Give one teaspoon (5ml) every 2-3 hours requreid.
INGREDIENTS:
Each 10mL dose contains: UMF 10+ Manuka (leptospermum scoparuim) Honey 1/3g (10%), Propolis powder 26mg(equivalent to pure Propolis 20.8mg), Echinacea purpurea extract 57.2mg(equivalent to dry herb 343.2mg) Also contains: Honey(Multiflora), Apple(Malus spp) Cider Vinegar, Purified Water, Peppermint(Mentha piperita) Oil, Carrageenan (thickener) (contains bulking agent [dextrose]), Eucalyptus(Eucalyptus globulus)Oil, tea Tree (Melaleuca alternifolia)Oil, Xanthan Gum, Fennel(Foeniculum vulgare)Oil, (contains anitcaking agents [Calcium phospate and Silicon Dioxide]). Contains no artificial sweeteners, colourings, flavourings or preservatives.
WARNINGS:
Not to be given to children under 2 years of age without medical advice. If symptoms or coughing persists consult a healthcare practitioner. Propolis may cause allergic reactions. If irritations of the mouth or throat occurs discontinue use.