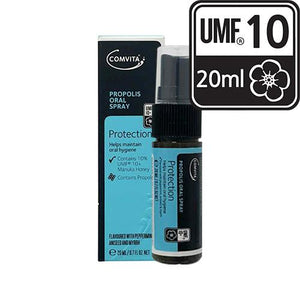 Propolis Oral Spray combines the powerful antioxidant properties of Propolis with UMF™ 10+ Manuka honey for your natural oral hygiene.
Propolis is a wonderful natural protective system designed to promote well-being and long-lasting health, with well-known antioxidant properties to help maintain a healthy immune system.
 

Helps maintain oral hygiene

 

Contains 10% UMF™ Manuka Honey

 

Contains Propolis
Spray directly into mouth and throat as needed.
Ingredients:
Manuka Honey (Anti-oxidant, soothing to mucous membranes), Propolis Extract (alcohol free), combined with Peppermint, Clove and Myrrh Oils in Water.