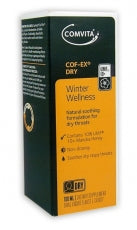 Soothes dry raspy throats.
Cof-Ex Dry combines three specially selected herbal extracts in a UMF 10+ Active Manuka honey and Rewarewa honey base tohelp with the tickle.

Marshmallow root (Althaea officinalis) is traditionally recognised for its soothing effects on mucus membranes. Grindelia (Grindelia camporum) and Thyme (Thymus vulgaris) traditionally help with throat tickles complementing the soothing effects of the Marshmallow root (Althaea officinalis). Traditionally honey has been used for the respiratory tract for helping to manage winters ills and chills. UMF© Manuka honey has a unique non-peroxide activity making it special amongst honeys of the world.

This all natural formula is free of artificial colourings, flavourings and preservatives. It is non-drowsy and suitable for the whole family (over 2 years of age).