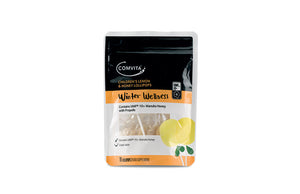 Comvita Childrens Lemon and Honey Lollipops combine UMF 10+ Manuka Honey with Propolis. New Zealand Manuka Honey is gaining worldwide recognition for its unique properties. Propolis contains high levels of bioflavonoids.
Propolis comes from natural resin and sap, part of the immune system trees use to defend themselves against disease. Honey bees collect these materials, add special substances of their own, and turn them into Propolis, which they use to protect their hive.
Propolis is what is known as natures defence and has proven abilities to aid in human health. Propolis contains active bioflavanoids with well known anti-bacterial and antioxidant properties that help fight infection.
These lollipos are Soothing & have a Great taste - Lemon and Honey.
Active Ingredients:
INGREDIENTS:
Sugar, Corn Sugar, Active Manuka Honey, Propolis Solids, Lemon Flavour, Menthol, Peppermint Oil