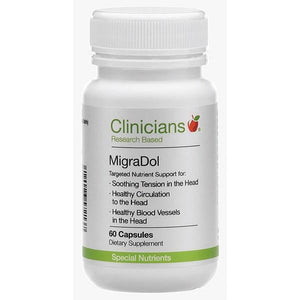 About Vitamins.co.nz Clinicians MigraDol
Clinicians MigraDol provides support for tension headaches, healthy circulation and blood vessel health. It is suitable for immediate and long term use and can be safely used alongside conventional medication.
Poor dietary and lifestyle choices combined with high stress levels and poor quality sleep may be underlying factors that may contribute to the onset and severity of tension headaches.  
Research has shown that dietary triggers may be responsible for up to 44% of tension headaches. Foods most frequently associated include caffeine, alcohol, aged cheeses, dairy products such as ice cream, citrus fruits, nuts, chocolate and processed meats
Addressing dietary triggers, reducing stress levels and aiming for a better work life balance alongside targeted nutrient support to soothe tension in the head and support blood vessel health may be beneficial for regular sufferers of tension headaches.
Response to therapy with Clinicians MigraDol may vary between individuals with some individuals noticing a response within 1 month, with maximal effects occurring after 3 months. In women suffering from menstrual migraines, magnesium supplementation may also need to be used for at least three months.
MigraDol Benefits:
Helps to soothe tension in the head
Is suitable for immediate and long term use if needed
Vitamin B2 (riboflavin) may assist with energy production to support blood vessel health in the head. Research has also shown that vitamin B2 may help reduce duration and frequency.
Contains magnesium to help support energy production, circulation and blood vessel health.
Low magnesium levels are associated with increased tissue irritability which may promote smooth muscle contraction or spasm.
Low magnesium may also adversely affects the body's ability to carry oxygen in the blood.
MigraDol Features:
Targeted nutrient support: Magnesium and vitamin B2 work synergistically together
Can be used long term with no apparent loss of effect
 Can be used alongside conventional medication
Safe and well tolerated
Directions
Adult: 3 capsules daily with food, either together or in divided doses.