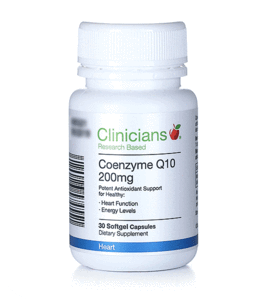 Clinicians Q10 (CoQ10) is an important antioxidant and cofactor in the production of cellular energy. Clinicians Coenzyme Q10 provides potent antioxidant support for healthy heart  function, energy levels and oxygen to the cells.
Coenzyme Q10 (CoQ10) is an essential cofactor for the manufacture and utilisation of energy (or ATP) by the mitochondria, the body's energy producing cells. Heart, liver and skeletal muscle cells have a high requirement for CoQ10. CoQ10 exhibits antioxidant activity, support overall energy production and helps protect cell membranes from free radical damage the contributes to the aging process.

CoQ10 is synthesised in the body but, tissue levels decline with age. Supplementation has been shown to be beneficial for cardiovascular health, blood sugar balance, energy levels, the nervous system and healthy teeth. Certain medications such as Statins (cholesterol-lowering medication) may deplete CoQ10 levels. Symptoms of CoQ10 depletion include muscle fatigue, and burning. It is essential that CoQ10 levels be restored as soon as possible in these individuals.