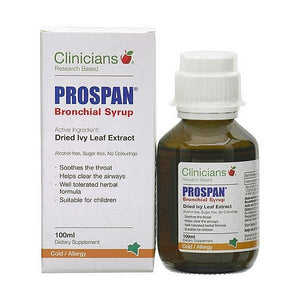 Clinicians Prospan Bronchial Syrup 100ml - Menthol
Clinicians Prospan Bronchial Syrup is a powerful herbal formula made from dried ivy leaf to soothe the throat and help clear the airways.
Powerful research based formula to:

Soothe the throat and help clear airways

Help thin mucous and moistens dry irritated membranes of the airways 
Prospan Bronchial Syrup Benefits
 
Soothes the throat and helps clears the airways.

Prospan's main active ingredient is Ivy Leaf. For literally hundreds of years, people have placed their trust in the herbal power of wild ivy for respiratory tract support.

Can be used for winter ills and chills
Prospan Bronchial Syrup Features
 
Does not contain alcohol, sugar or artificial colours

Has a pleasant taste, which helps with compliance in children and adults.

The dried plant extract is standardised, which means there is a consistently measurable amount of active ingredients every time the product is taken.